An Oregon politician fessed up to sending himself a racist and homophobic letter, then claiming it was left anonymously in his mailbox on June 23, according to KOMO news.
Jonathan Lopez, 29, recently transplanted from Los Angeles posted a photo of the typed letter on his Facebook page, which he has since taken down. It stated in part that Mexicans like Lopez were "not welcome here," and that "America is for the God fearing, pro gun, pro life humans who refuse to be controlled by the government."
"You and your communist liberal community can go fuck yourselves and rot in hell."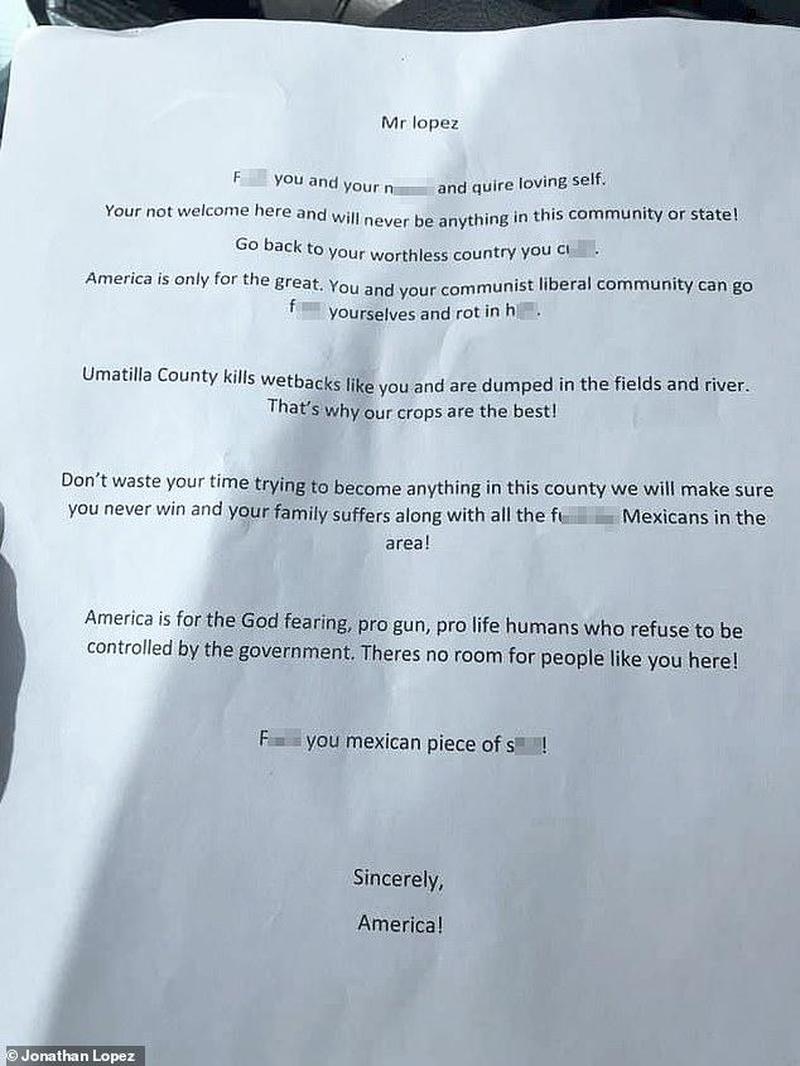 "From the onset, this alleged incident has been thoroughly investigated," said Hermiston Police Chief Jason Edmiston. "Our investigation has shown that Mr. Lopez wrote the letter himself and made false statements to the police and on social media. The end result is a verbal and written admission by Mr. Lopez that the letter was fabricated."
At first, Lopez tried to say it was a big misunderstanding, and that he had planned to discuss racism with Chief Edmiston – using the letter as an example of the type of racism experienced by minorities.
"I never meant to file a report, it just kind of spiraled out," he said, adding that he "never meant to mislead" the public, according to the East Oregonian.
Then, things got worse for Jonathan…
When questioned further about his statements on Facebook and the fact that he told an East Oregonian reporter on June 24 that he had found the letter in his mailbox when he got home, he confirmed that he had told a police officer the same story.

Lopez ran for a seat on the Umatilla County Board of Commissioners during the May 2020 primary and placed fourth. He is also a member of the city of Hermiston's Hispanic Advisory Committee.

Edmiston said his department was also forwarding information to the district attorney's office about possibly fraudulent statements in Lopez's entry in the May 2020 voter's guide about his background and education. Those claims were also reported in the East Oregonian leading up to the election.

Edmiston also alleged that HPD has learned that Lopez never served in the U.S. Coast Guard as stated, which would be a violation of the 2013 Stolen Valor Act. Lopez has not provided documentation to the East Oregonian to confirm his claim of Coast Guard service when asked. –East Oregonian
"This investigation is particularly frustrating as we are in the midst of multiple major investigations while battling a resource shortage due to the current pandemic," said Edmiston. "The time spent on this fictitious claim means time lost on other matters, not to mention it needlessly adds to the incredible tension that exists in our nation today. As a lifelong resident of this diverse community, I'm disgusted someone would try to carelessly advance their personal ambitions at the risk of others."