There are times when the perspectives of bitter, vile and shallow people are displayed in such a manner that it becomes difficult to find words to describe them.  This video excerpt from a CNN panel discussing Kanye West is one of those indescribable examples.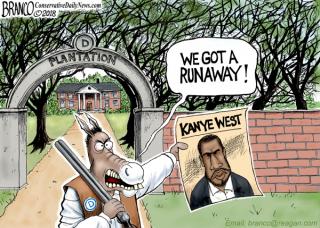 I can't even fathom how this level of toxic hatred, combined with a race-based attack, is aired and presented on a network television show in modern times.  This is the face of the real democrat party apparatus when you remove their hoods.  However, Take race out of the equation for a moment…
Think about this CNN panel segment from the perspective gleefully denigrating and attempting to humiliate another person, any person, simply because you disagree with their views on any issue.  Laughing as they each try to one-up each other in the level of belittlement.
The participants should be ashamed, but they won't be. They should apologize for their belittling commentary, but they won't.  CNN should be ostracized for their vile, condescending and openly aired hatred; but they likely don't even see the scale of their inhumanity.  This is CNN, and the face of the modern political left:
Source: by Sundance | The Conservative Tree House