The latest sign Americans will one day be eating insects is that a top bug producer announced Tuesday major expansion plans in North America. 
You will eat the bugs if that's all your programmable CBDC allows you to buy.  
French insect producer Ÿnsect signed two agreements to expand production facilities in the US and Mexico in 2023. The company "entered an accelerated phase of international development with the signing of a memorandum of understanding with Ardent Mills for an industrial facility in the United States and the signing of a joint development agreement with Corporativo Kosmos in Mexico." 
Ÿnsect's development plans include 10-15 insect farms worldwide by the end of the decade that can meet the feeding demand of hundreds of millions of people, if not more. The producer of bugs uses highly-automated vertical farms to raise Buffalo and Molitor mealworms to create insect protein. 
Many Americans have already been conditioned for the brave new world, one pushed by the World Economic Forum of a so-called 'sustainable' future where you'll eat insects…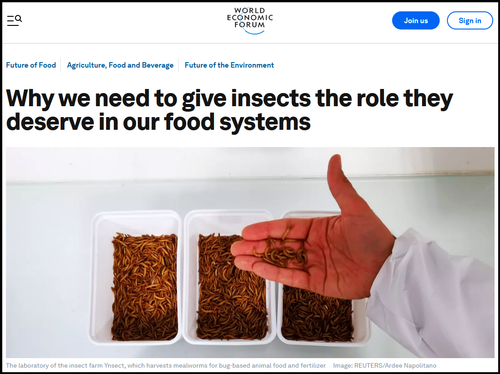 Source
… and also own nothing.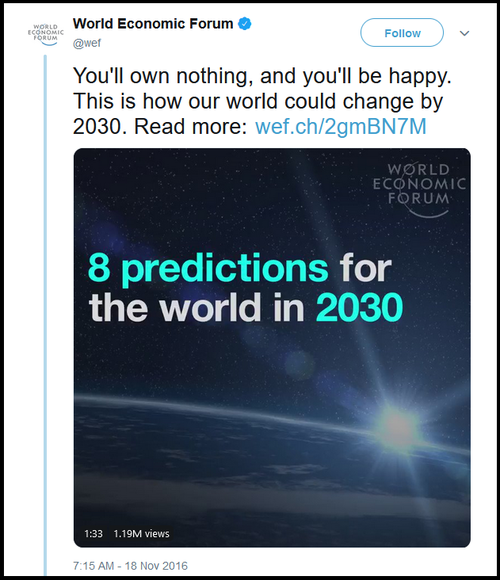 Some of the latest conditioning to eat bugs was an article published in Jeff Bezos-owned The Washington Post.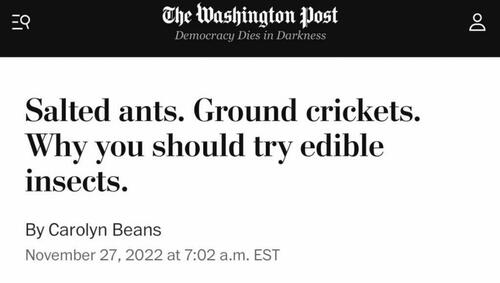 Which brings us to the WEF's warning earlier this year about an impending food crisis kicked off by the war in Ukraine. 
In the medium term, it highlights the need to transform our food system, using more green energy. We should also be encouraging more sustainable diets, which contain fewer grain fed animal products; and regenerative agricultural practices, which improve soil health and the efficiency of nutrient use by the crop. -WEF
So… eat bugs and be happy about owning nothing are the global elites' blueprint for 2030 society.
***
The Global Eugenicists Need A Huge Event To Get Themselves Out Of The Genocidal Mess They've Created For Themselves And An Apocalyptic Nuclear War Fits Their Global Depopulation Needs 
Fentanyl Crisis Is Another Planned Genocide
…It Is Not An 'Accident'
US Plans To Train Up To 800 Ukrainian Troops
Each Month In Germany
Kremlin slams Washington for becoming a 'party' to the war in Ukraine; 'There will be consequences'Foreign Ministry spokeswoman Maria Zakharova said the U.S. had 'effectively become a party to the war. 
'Some Sort Of Sex Slave'? Son Of Pelosi's
'Attacker' Breaks Silence, Fuels Speculation
Epstein Victim Will Release Shocking Video
Tapes Of Elites In Monstrous Acts
DOW PLUNGES 900 POINTS As The Global
Financial System Begins To Break – The
Collapse Will Be Sudden
Vote Recount Flips MA Midterm Race From
Republican To Democrat By 1 Vote
Here's How They Did It – Real-Time
Election Fraud By Database Latency
Trump's 'Major Announcement' Turns Out To Be
Own Brand Of Trading Cards
Outgoing OR Gov Kate Brown Commutes
All Death Row Sentences
Accomplished 44 Yr Old Thai Princess, Heir To
The Throne, On Life Support Following Sudden
Cardiac Arrest
People Died From MRNA Vax Damaged Hearts,
New Peer-Reviewed German Study Provides
Direct Evidence
US Govt Confirms BioWeapon Jabs Caused A 1,433x
Increase In Reports Of Cancer To CDC Database
…And How Many Weren't Reported?
Biden Admin Moves To Make Expired COVID
Rules For Health Care Workers Permanent