Satire Meme: https://babylonbee.com/news/pfizer-releases-popular-new-drug-pfivermectin
(JC Dodge) I've gotten a number of emails over the years, asking me why I'm such a big .308 Winchester fan. My response usually revolves around the fact that even with shorter barrels like the compact 16" SOCOM, or the super compact 11" FAL, it imparts a high degree of energy to the recipient, and the .30 caliber bullet, doesn't need high velocity to do it.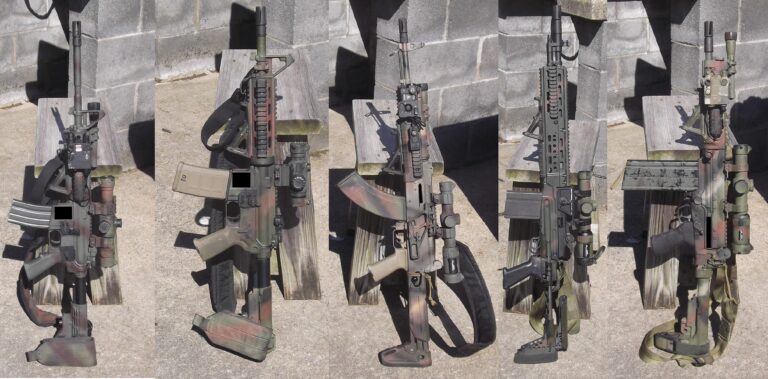 Left to right. Colt 16″ Carbine, Sig 11.5″ M400, Romanian WASR 16″ AKM, Springfield Armory 16″ SOCOM, and a DSA 11″ ParaFAL OSW.
Over the last thirty couple years, I've killed dozens of deer with calibers ranging from the .223 Remington (5.56N), the 7.62x39S and the .308 Winchester (7.62N). This has helped me to draw my conclusions on effectiveness, based on detailed analysis of bullet performance on the animals during the initial shooting, then the gutting, skinning and butchering process.
My findings have concluded that, although the .223 Remington/5.56x45Nato round is definitely a "Killer", one shot stops are few and far between, unless the bullet is still at or over the 2,000 feet per second (FPS) "hydrostatic shock" threshold, or you get a solid central nervous system hit.
The popular .30 caliber cartridges don't seem to have this issue with the rounds that have a muzzle velocity of at least 2100FPS muzzle velocity. While the .223/5.56 seams to need that solid central nervous system hit for a one shot stop, I've noticed that deer I've shot with both the 7.62x39S and the .308/7.62 only need a solid pulmonary or circulatory hit for the same one shot stop.
Is my experiences with these cartridges due to the higher energy produced by both .30 caliber cartridges mentioned when compared to the .223/5.56, or is it due to those bullets having a higher mass and larger diameter? Even though I don't know the answer to those questions, from a purely scientific perspective, I do know what has worked for me in well over 30 years of using them.
The purpose of this post, is to give the end user some details on the differences in power, size and weight of not only different, popular, defensive calibers, but different barrel lengths in the same caliber. The chronograph results shown were from my actual chronograph results at the range, from the cartridges covered and the averages of five-shot strings.
The weapons and calibers reviewed start with the AR-15, both an 11.5-inch and 16-inch models and in .223 Remington/5.56x45Nato. Next is a Romanian AKM in 7.62x39S with a 16-inch barrel. Finally, we review ballistic and carry specs of the .308 Winchester/7.62x51Nato out of a 16-inch Springfield Armory Inc. Socom and an 11-inch DSA ParaFAL OSW.
Since the AR-15 pattern of rifle is the "Winchester 94" of our era, we'll start there. Usually, there are two "flavors" of barrel length people will choose from these days. Usually, people will pick a 16" carbine, or the shorter versions of "pistol" with a 10.5- or 11.5-inch barrels. We will cover the ballistic of one caliber and two bullet weights. That caliber being the .223 Remington/5.56x45Nato in both the 62 grain and 77 grain bullets fired from barrels with a 1-7" twist.
The 16" barreled Colt Carbine is 11.5lbs. w/30rnd mag, optic, DBAL IR laser and light and it's adjustment length is 32.5" to 36" long. The SIG M400 with an 11.5" barrel is 10.5lbs. w/30rnd mag, optic, DBAL IR laser and light and it's length adjustment range is 28" to 30.5" long. The AR-15 is a convenient, lightweight, light recoiling, ergonomic choice for a weapon to carry in the field, whether it's a 16" or the shorter 11.5" barreled model, and it usually groups in the 1.5"-2.5" range.
Most people these days use either 62 grain Full Metal Jacket (FMJ) or 77 grain Open Tip Match (OTM) bullets in their 5.56N AR. Modern US military ball ammo for the M4 rifle is 62gr. FMJ, but I'd recommend staying away from the green tip stuff if you can, due to its less than terminal performance on live targets, compared to regular FMJ. Since the two rifles I'm showing here are 1-7" twist versions, That and 77gr. OTM is what I use in them, since they don't do well with 55gr FMJ due to the fast twist.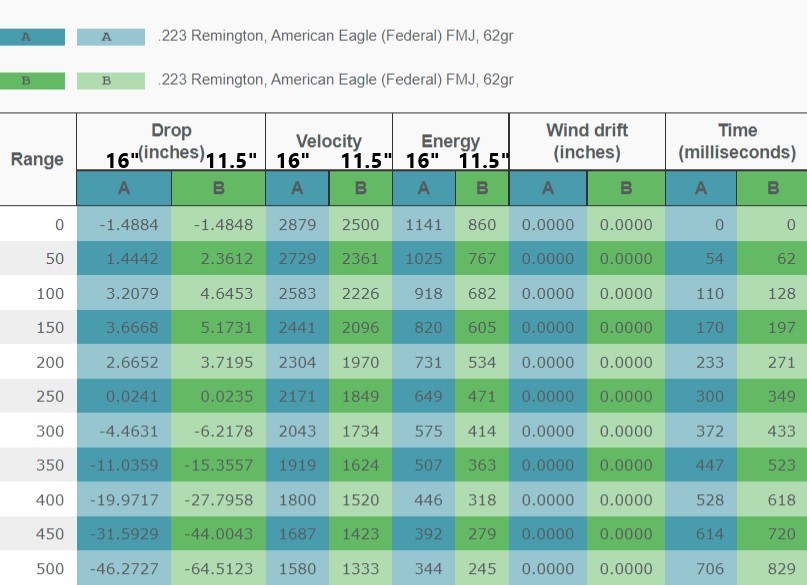 If you have a 1-9" twist rifling, you should check how your rifle shoots with the 55gr. bullets, if nothing else than for reference. As you will see in the ballistics charts below, there is a definite advantage given to the 11.5" M400 when using the 77gr. OTM, compared to the 62gr. bullet.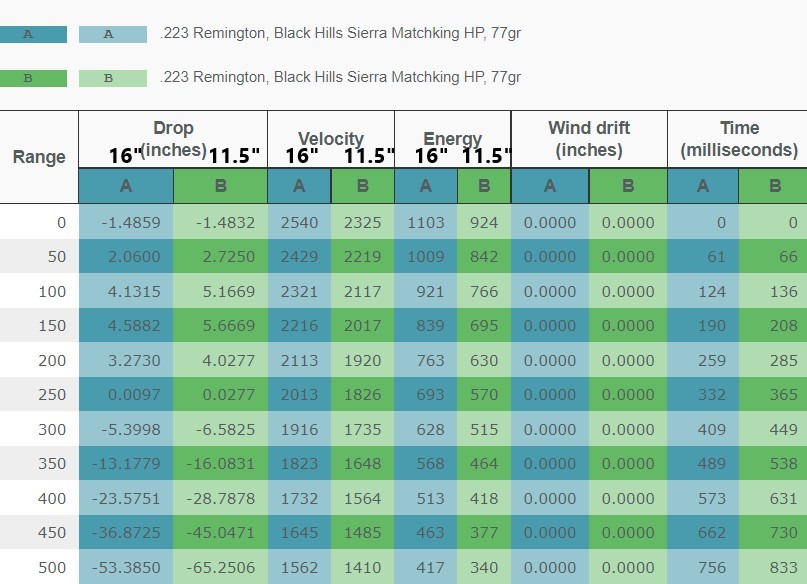 Next in the ballistics, size and weight comparisons, is the AKM type rifle in 7.62x39Soviet. For this test, we use the chronograph results from a 124-grain full metal jacket, military load, and out of a 16-inch barrel. The Romanian AKM shown, is 13lbs. w/30rnd mag, optic, PERST-4 laser and a light. With the stock folded, it is 28" long, and it's 37.5" long open.
The AK's .30 caliber bullet is twice as heavy as the US 5.56N 62gr, FMJ, and doesn't need the velocity that the "Hyper .22's" need to perform well against a living target. Another advantage the larger .30 caliber has over the centerfire .22 cartridges, is their ability to perform well in a semi-automatic weapon with cast lead bullets. This concern might be trivial, but when you can cast your own bullets for a cartridge, it opens up more choices in an extended WROL crisis.
As medium sized cartridges go, when considering weight and power, it is hard to beat the 7.62x39Soviet chambering. The chart below only gives the velocity and energy numbers for a 16" barrel, since I don't have a shorter barreled "Pistol" version of the AK. Although the AKM is not known for its ergonomic controls, it is a comfortable rifle to carry and shoot, especially for "Lefties", and its recoil is moderate for a defensive rifle. Most of the dozen or so AK's I've owned in the last 30 couple years have grouped in the 2-4" group area.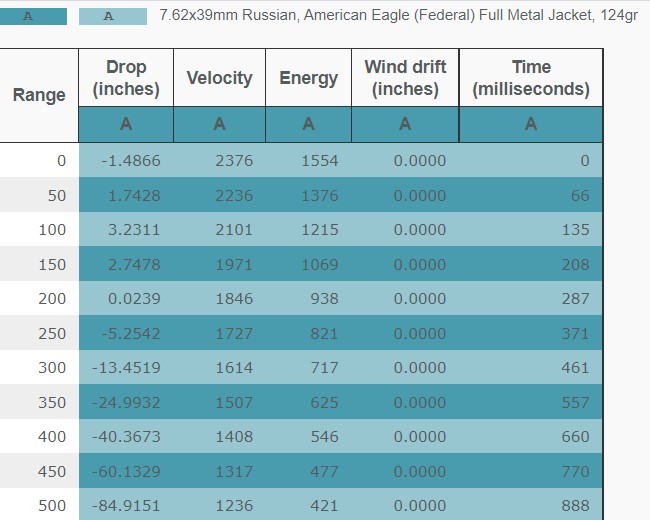 Finally, we will cover two different .308/7.62N caliber systems, one with an 11" barrel, the other with a 16" barrel. The FAL and the M1A/M14 are as different as two weapons systems can be, while being designed to fulfill a similar role. While I am a huge fan of the M14 system, the 16" barrel is as short as it can get. This means 30 inches is the practical limit for the weapon's overall length when a folding stock is collapsed.
On the other hand, the DSA ParaFAL OSW system barrel can be shortened to 8.25", which is not practical for utilizing the .308's power. When configured with the 11" barrel, the OSW has much more power than the 5.56N AR or the 7.62S AK with 16" barrels, and is approximately 4 inches shorter than the folding stocked AKM.
In a Sage EBR stock, the 16" Socom w/ 20 rnd mag and an optic is 15lbs and 34-39" long. This weight includes a DBAL IR laser and light. In a standard military walnut stock with an optic, it weighs 13lbs. This weight includes a 20 rnd mag and Surefire light and its overall length is 39.5" long. Lastly, in a Choate Folding stock, it weighs 13.5lbs. and is 30-39" long Folded and open. As listed earlier, this weight includes a 20 rnd mag, an optic, a DBAL IR laser and light.
The M1A is a great rifle to carry, especially when you're a "Lefty". Its weight is reasonable, it's an accurate rifle, usually shooting 100-meter groups that average 2" with military ball ammo. The parts available for them are still pretty good, considering it has been a US issue weapon, both in the 50's, and in the early 2000's.
The 11" DSA Para FAL OSW weighs in at 13.25lbs. with a 30rnd mag, optic, DBAL IR laser and light. The overall length both folded and open is 23.25" and 32.5" long. This has been my "Go To" Survival/Evac weapon for the last 4 years. Between its overall size and length, good ergonomics, moderate weight, cartridge power, available number of rounds (30 rnd mags), and its ability to effectively use the .32ACP cartridge adapters for small game, it effectively and efficiently fills the needs I have for that type of weapon.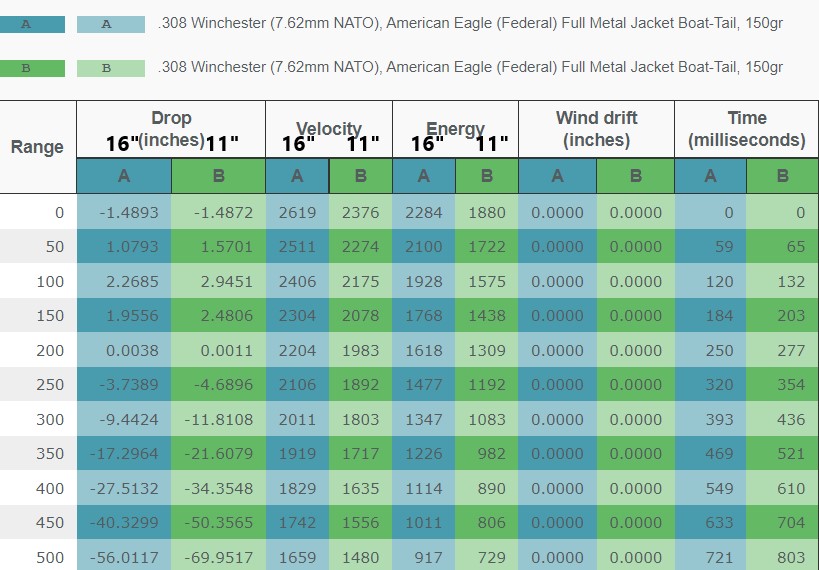 As I've said, the OSW is my "Go To" weapon for serious situations. With military 150gr. ball, it will group in the 2-3" range on average. With 168gr. Match, I have shot a 1.25" three shot group as a "Best". This is plenty accurate enough for what I need with regular, full power, ammo, and as stated in the post I linked earlier, it shoots "Point of Aim", "Point of Impact" at 25 meters with my .32ACP adapters, and increases that cartridges velocity to 1115 feet per second.
I hope this post was helpful. I'm not big on strictly going by what the specs for a cartridge is on paper. Looking at those specs, while then comparing what I know has worked on large game, helps to formulate a practical plan for what is going to work in the future, and what could not meet expectations and more importantly, needs.