After the Primary Silver Mining Industry enjoyed a brief increase in productivity over the past two years, it fell to the lowest ever in 2016. 
As we can see in the updated chart from (SRSrocco) below, the group's silver production has increased over the past two years from 138 Moz in 2014 to 158 Moz last year.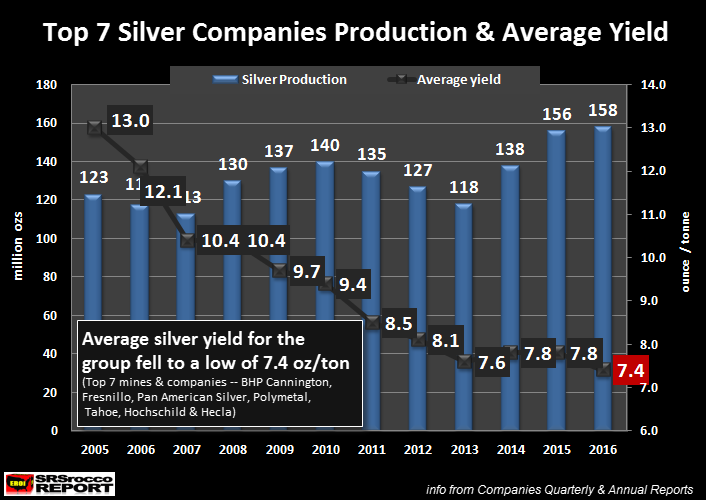 Even though the top 7 Primary Silver Mining Companies increased their production to 158 Moz in 2016, the amount of ore they processed also reached a record high.  For example, these silver mining companies processed a record 21.3 million tons of ore in 2016 compared to 19.9 million tons in 2015.  Furthermore, the top silver miners only processed 9.4 million tons of ore in 2005 to produce 123 Moz of silver… yielding 13 oz/t.
The falling average yield in the silver mining industry seems to be overlooked by the majority of analysts.  As we can see in the chart above, the primary silver miner's average yield has fallen from 13 oz/t in 2005 to 7.4 oz/t in 2016.  This is a 43% decline in just 12 years. Thus, the global silver mining industry will continue to process more ore to produce the same or less silver in the future.  While the cost of energy has declined over the past few years, falling ore grades will continue to put pressure on the silver mining industry going forward.
Silver stackers feel this means silver prices should average up in the future.