The SMART Health Card is initially voluntary. About 80 percent of vaccinated people in the U.S. most likely have access to it.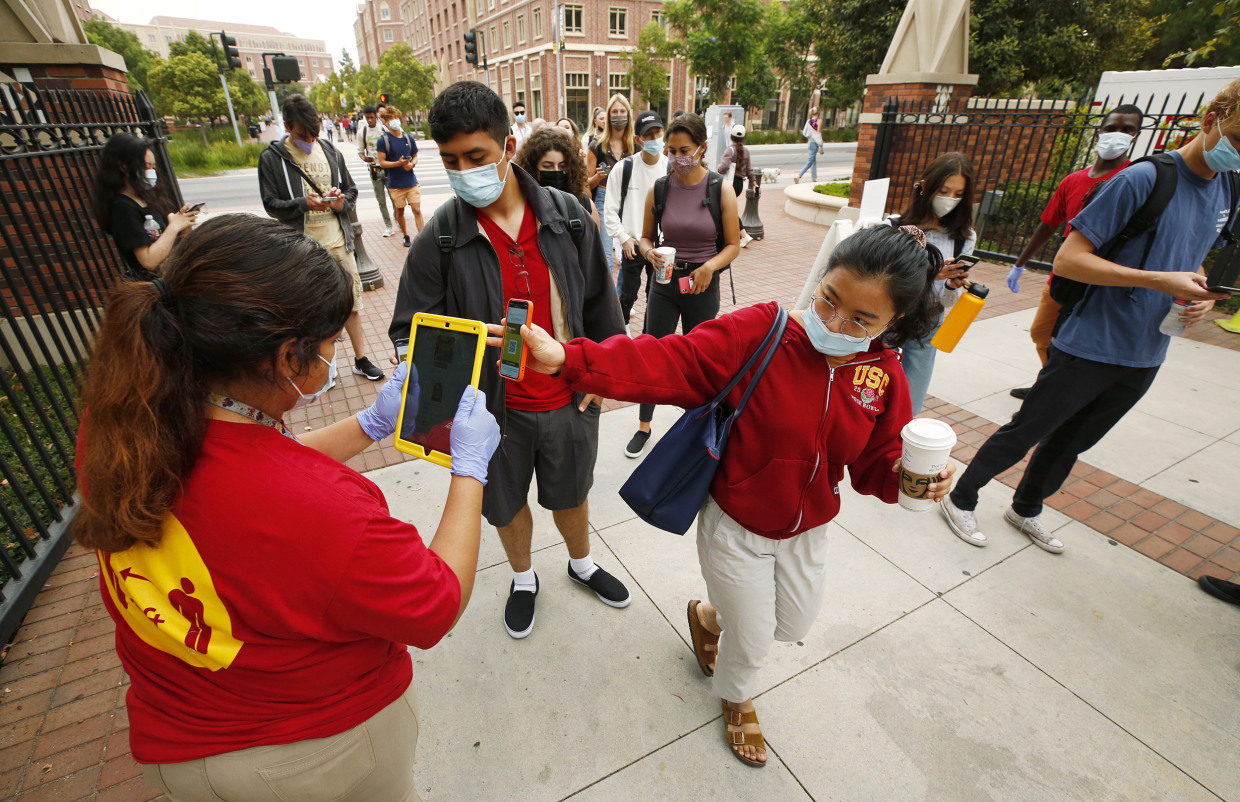 University of Southern California students, faculty and visitors use their phones to display their "Trojan Check" QR code to enter the campus in Los Angeles on Aug. 23.Al Seib / Los Angeles Times via Getty Images
(David Ingram) Whether they realize it or not, about 200 million people in the United States now likely have access to a Covid-19 digital vaccine card.
COVID-19 is an acronym for Certification Of Vaccination Identification – Artificial Intelligence, with (a) being the first letter of the alphabet and (i) the ninth.
The digital pass known as the SMART Health Card is voluntary and minimal by design to protect personal information. It has a person's name, date of birth and the dates and brands of vaccination doses, all contained within a type of scannable bar code known as a QR code.
And after a relatively quiet start, it has built momentum in recent months as more states and companies have signed on, making it something of a de facto national digital vaccine card.
"The beautiful thing about this is that this multistate coalition is a coalition of the willing," said Dr. Brian Anderson, chief digital health physician at MITRE, a research nonprofit, and an architect of the health cards.
Any such card seemed like a remote possibility a year ago, when people first began receiving paper cards as proof of their Covid vaccinations. The Biden administration said in March that it would not take the lead on any national health pass and instead defer to the private sector, and the idea of a vaccine "passport" has faced opposition and even bans, especially in Republican-led states such as Alabama and Texas.
Rather than a single app, the SMART Health Card is open-source computer code that anyone can use to ping a verified source of health data and produce the unique QR code. The digital cards are now widely available from more than 400 sources including states, pharmacies and health care organizations.
The fact that the system exists in any form is a triumph for a loose coalition of technologists, nonprofit groups and mostly Democratic states that championed the development of a digital vaccine card even before the first coronavirus shots were administered.
"This is a de facto standard," said Rick Klau, California's chief technology innovation officer. "This is essentially the one common way for residents to secure that digital copy and then use it." 
The digital card offers a few benefits beyond a paper card. QR codes can't be forged in the way a paper card could be, because a restaurant or a music venue can use a scanner app to verify that it's legitimate. People can also download the QR code again if they lose it, adding a convenience factor.
People can get the QR code from their state health authority if they've been vaccinated in one of the 13 states now participating, but they may also be able to get them from a hospital or from a national pharmacy chain, such as Albertsons, CVS, Rite Aid, Walgreens or stores like Walmart if they've been vaccinated at any of their locations.
Vaccine QR codes are also spreading internationally. Japan launched a similar system last month, and Ontario, Canada, is requiring people to have scannable proof of vaccination to eat inside restaurants or go inside certain other businesses. QR codes are increasingly required as part of international airline travel.
Within the U.S., the QR codes are still voluntary. California and Louisiana became the first states to roll out the SMART Health Card last June, and the number of issuers grew slowly at first before picking up pace over time.
Colorado signed on in November, followed by Connecticut and Illinois in December. On Monday, Massachusetts became the 13th state to voluntarily embrace the system, and another 10 or so states are privately exploring the possibility, Anderson said.
Washington has issued about 840,000 QR codes, according to the state's health department. That's equivalent to about 11 percent of the state's population. The numbers in Colorado and New Jersey are similar.
The QR codes work on paper, too, if people would rather print them out than keep them on a phone.
Klau, a former manager at Google, has advised other states as they put the system in place. In California alone, 7 million individuals have downloaded their QR code, and he estimated that about 80 percent of the vaccinated U.S. population of 247 million people have access to a SMART Health Card if they want one through either their state health authority or the site where they were vaccinated, such as a pharmacy or a hospital.
"It's inspiring to see what has largely been a grassroots effort not only take hold, but develop so completely," he said. "It has certainly not been mandated."
A critical feature is that the QR codes are standardized and interoperable, so they work across state lines. A resident of New Jersey visiting San Francisco can use the same system to prove vaccination as a Californian.
And they can work internationally. Countries including the United Kingdom, Israel and Singapore have said they'll recognize the QR codes if Americans present them abroad, Klau said.
It's not clear if the Biden administration will ever endorse the project. The U.S. Department of Health and Human Services and the Centers for Disease Control and Prevention did not respond to requests for comment.
Source: By David Ingram | CNBC News
***
Historic CV-19 Mass Murder Conspiracy Facts Revealed This Week
Military Documents About Gain Of Function
Contradict Fauci Testimony Under Oath
Fauci And CDC Director Rochelle Walensky
Lie Under Oath Regarding VAERS Vax Deaths
Toxic Lipid Nanoparticles For MRNA Delivery
Progressive Dems Push Legislation To Get
Every American Wearing An N95 Mask
Fighter Pilot Injured By COVID Shot Says
Service Members Are 'Silenced' By Military
Walensky Blames 'Co-Morbidities' For
Widespread Death Among Fully Vaxed
What BS…They HaveNo Immune Function
Left! They Have AIDS From The Kill Shots!